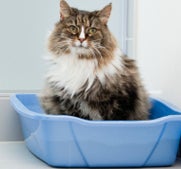 How to potty-train a kitten.
Get a new cat? Congrats! Your new pet will be a great addition to the family. And even though cats are relatively low maintenance, you'll want to make sure it can adapt to your family's routine when you bring it home. You'll have an easier time of it if you use the following tips:
Before letting your cat roam the entire house, keep it confined to one room with litter, food and water while it acclimates.
Create a cozy cat bed by putting some old bedding in a quiet, out-of-the-way location.
Get a roomy litter pan, a rug or tray for outside the box, and a waste scooper.
Some cats prefer a hooded litter box, while others like an open litter pan — experiment to discover your cat's preference.
Make sure an adequate number of cat boxes are available — consider more than one box if you have more than one cat.
Keep the litter box in a quiet place that's convenient for the cat, yet away from heavily trafficked areas such as hallways and stairs.