Multi-Cat
Scented Scoopable Cat Litter
Specially formulated to handle odors in even the busiest litter boxes.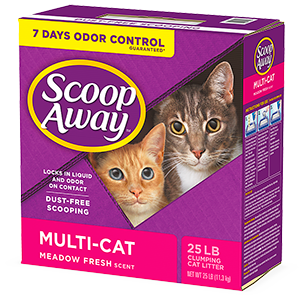 Testimonial
"Using Scoop Away I never have a problem with odors or clumping."
-Chris B. | VA
Testimonial
"My house has been on the market and realtors tell me they couldn't believe I had cats. They say they can always smell a litter box."
-Lee D | FL
Testimonial
"Thank you for making a product that makes this undesirable task... a little more desirable!"
-Linda N | MD
Testimonial
"I never smell the cat box. Absolutely amazing product! Me and my cat Kit love you!"
-Lyndsey C | CA
Testimonial
"I never smell the litter and I live in a one bedroom apartment! But the best thing is that everything clumps!"
-Peg S | NY
Testimonial
"After buying Scoop Away, I was pleased I no longer needed my FUME MASK to clean up after our cat. Now our basement smells fresh."
-Harry M | GA
Testimonial
"I have 3 cats and use your Scoop Away faithfully. Less cat odor; very easy to scoop out - love the clumping."
-Janet G | OH
Testimonial
"People can walk into my house and never know I have a cat. The product is wonderful."
-Renee F | VA
Testimonial
"Scoop Away clumps great, doesn't spray everywhere and my cat loves it!!"
-Sharon P | MA
Need a helping paw? Try our dandy Litter Selector.

Products
Rats! Our IT cats keep batting that answer under the fridge where we can't reach it — please try again with different criteria.