LightWeight
Extra Strength Scented Scoopable Litter
More powerful control to handle the most extreme litter box odors… Now at 30% less weight!
Low-dust formula
Ultra-strong clumping power
Maximum odor control with Odor Guard® Technology
Easier to lift, carry and pour! All the benefits of extra strength at a lower weight
7 Odor-Free Days: Guaranteed
Dust-free scooping
Questions? Read our (cat) litter FAQs »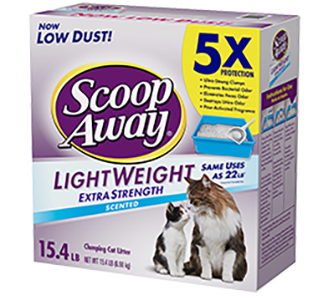 Testimonial
"Hi, I just want to say that I made my first of many purchase of the New Scoop Away Lightweight and not only do I LOVE IT, so does my meanie, picky cat!!"
-Darleen G. | Passaic, NJ
Testimonial
"Lovin the lightweight litter!"
-Tracy W. | Stillwater, OK
Testimonial
"We have four cats and we just tried the new LW Complete Performance Scoop Away and we really really like it! It's much lighter and it's easier to clean up the litter box, and we just really really like it!"
-Jean V. | WA