Instant Odor Control
Scented Scoopable Cat Litter
More powerful control to handle the most extreme litter box odors.
Maximum odor control with Odor Guard® Technology
Strong clumps for easy cleanup
Fortified with Ammonia Shield to destroy litter box odors and inhibit growth of bacterial odors
7 Odor-Free Days: Guaranteed
Dust-free scooping
Questions? Read our (cat) litter FAQs »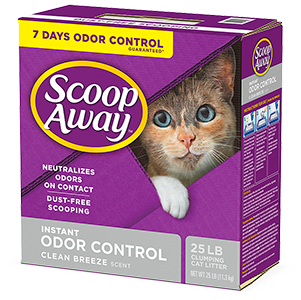 Need a helping paw? Try our dandy Litter Selector.

Products
Rats! Our IT cats keep batting that answer under the fridge where we can't reach it — please try again with different criteria.