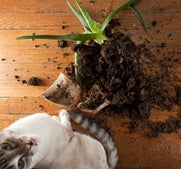 How to "cat-proof" your home.
Just as a toddler can get hurt exploring a new home, so can your cat. Here are a few ways to cat-proof your home and help prevent accidents.
KEEP YOUR CAT AND HOME INTACT.
Put screens on windows to prevent your cat from lunging out open windows after birds or other animals — keep an eye out when you're on the balcony, too.
Cats can swallow just about any bite-size morsel — yarn, ribbons, tinsel, rubber bands, paperclips, or pins — leading to an unexpected trip to the vet.
Give your cat a variety of suitable toys so it won't go looking for dangerous ones.
Houseplants can be poisonous to cats, so prevent digging and leaf eating by putting plants out of reach, or covering the soil with aluminum foil.
Prevent furniture scratching by using nail guards, sprays and sticky tapes. Also remember to keep its nails trimmed.